Alloy Wheel Repairs
State of the art mobile wheel refurbishing and centre
Specialists In Alloy Wheel Repairs
At Essex Smart Repairs most of the time we can cosmetically repair your alloy wheel damage using our mobile service. When the alloy wheel is too damaged to cosmetically repair, we use state of the art technology to refurbish the whole alloy – removing the damage and restoring the factory finish. This process is called powder coating, we also use this technique to change the colour of your wheels which is another service we offer. A powder coating finish offers outstanding protection with excellent durability.
Get a quote
Some of our recent work
We are able to offer alloy wheel refurbishments to wheels that have suffered with Curbing, Surface Corrosion and Scratches
Keeping your alloy wheels in tip-top conditions can extend the life of your wheels as well as the vehicle they belong to. Potholes, raised curbs and debris in the road can sometimes make this a difficult task. Hitting one may cause weird vibration you never noticed before or a thumping sound you cannot remembering hearing, the handling is all off and you notice you spend a lot more time in the fuel station than you used to.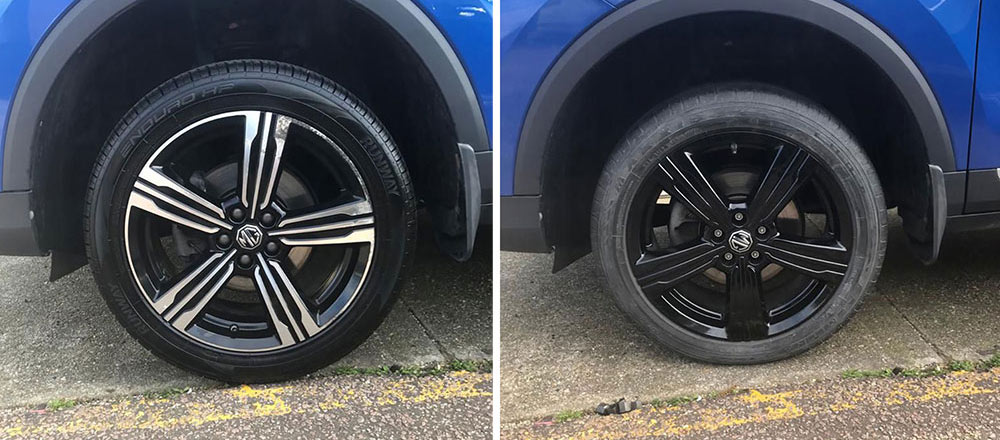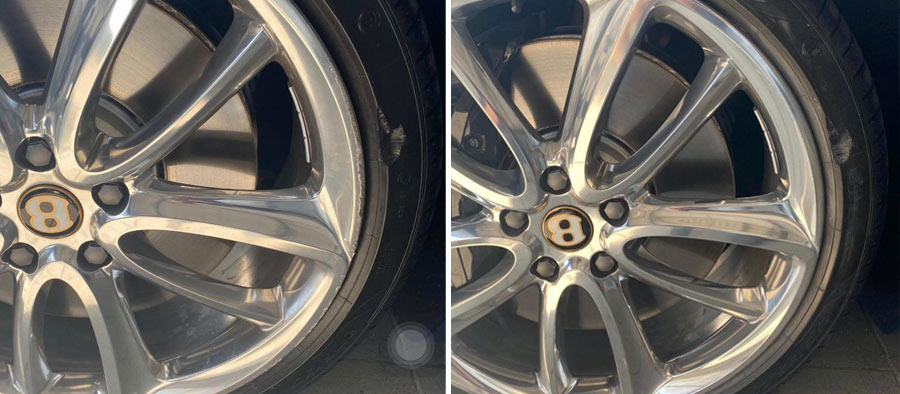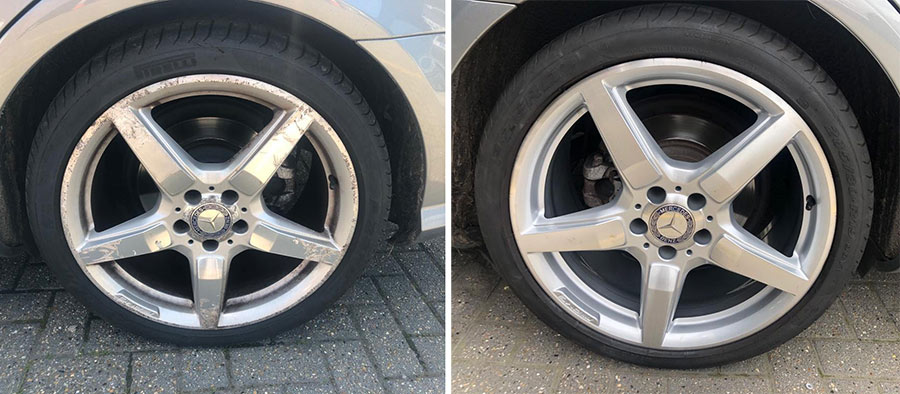 Lee Fortnam
Excellent job by Wayne and the team. Dropped my Ultima RS wheels to then Tuesday afternoon and they were back with a cracking new Ferric Grey powder coat finish by Friday afternoon. Really chuffed with the quality and the general service by the guys. Thx..

Simon Smithwick
I recently won a competition on facebook for 4 wheel refurbs I was over the moon.john was sent to my home to do my rather shabby alloys I'd hit a few kerbs,the finished article is amazing they look brand new really pleased.top job by john and much appreciated essex smart repairs.thankyou will use you again

Michael Simpson
Amazing service from start to finish from the guys at Essex Smart Repairs. Their new mobile wheel repair service on diamond cut alloys is a dream, came to my office and within 1 hour and 30 minutes my wheel was back on the car and good as new. Gone are the days of having to take it in and lose the car for two or three days, can't recommend them highly enough!

Stephen Haywood
A big thanks to Ben and all of his team @ Essex Smart Repairs and Daniel the smart repairer who brought my mk3 Focus RS Edition back to its glory he did a fantastic job on 2 scratches I am over the moon with the end result I would highly recommend Essex Smart Repairs. regards Stephen.

LB11
The team are lovely! I had curbed my beautiful black Mini Cooper wheels and from start to finish everyone I spoke to was helpful and kind and informative! I had to move my appointment twice and Josh over email was super helpful.

J Crane
WOW what a service. These guys have looked after my Mini and Mazda. I have had the wheels refurbed on both cars. They look amazing. The Paintless dent repairs are now invisible. Front bumper repair is spotless and a perfect paint match on a 10yr old Mini. Many thanks again guys.

Mike Bond
I used Essex Smart Repairs when a neighbour drove his 4x4 into the back end of my car. Luckily, only scratched and no one was hurt, but quite deep. I contact via the web and sent photos over. Got quick quote at a good price

Nat Wilson
I got my car repaired with Essex Smart Repairs for the first time today and they did a first class job - the paint is matched and applied perfectly - the repair is completely invisible. The price was reasonable and they were very friendly. Many thanks for the great service.